Inversions, backward-sections and about 1300m track lenght in total. Those are the two new rollercoasters at the german amusementpark "Tripsdrill". Those two coasters will launch on the 26th June 2020 for the public. What you can expect, can be seen here! Onride footage will be posted on our YouTube channel as soon as possible.
---
Volldampf
Name: Volldampf
Lenght: 500 m (1640ft)
Height: 22 m (72ft)
Manufacturer: Vekoma Rides Manufacturing B.V.
Type: Family Boomerang
Train seats: One train with ten rows of two seats mit (20 seats in total)
Train decoration: The train was designed as a steam locomotive of the 19th century. The last car is decorated with a sculpture of a goat.
max. speed: 60 km/h (37,28mph)
Uniqueness: Backwards section, Interaction with "Hals-über-Kopf"
Story: The story of "Volldampf" deals with an ancient swabian folk song named "Auf de schwäbsche Eisebahne". This folk song represents a train tour through Swabia.
---
Hals-über-Kopf
Name: Hals-über-Kopf
Lenght: 800 m (2624ft)
Height: 30 m (100ft)
Manufacturer: Vekoma Rides Manufacturing BV
Typ: Suspended Thrill Coaster (STC)
Trains: Two trains with ten rows of two seats (20 seats for each train)
max. speed: 80 km/h
Uniqueness 4x Inversions
Story: The story and theming goes back to the telling "The seven swabians". Those have the goal to reveal a monster on the ground of the german Bodensee. But instead of a monster, they found a scared rabbit that escaped fearful.
Layout: First-Drop, Zero-G-Roll, Immelmann, Airtime Hügel, Twisted Airtime Hill, Helix, Bunny Hopp, Canyon Dive, Corkscrew
Involved companies:

Rollercoaster: Vekoma Rides Manufacturing b.V.
Design: Vekoma Rides Manufacturing b.V in Zusammenarbeit mit Emmanuel Mongon – Imaginvest
Planning and organisation: Ingenieurbüro für Vermessung Manfred Dietz
Static: Ingenieurbüro für Bauwesen Rainer Klein
Construction: Karl Wildermuth Bauunternehmen
On the first seight, the theming, especially for Hals-über-Kopf doesn't look like the theming level on the other attractions at the park. The park did it on purpose, because the theming will be finished next year (2021) and will offer more detailed queue line packed with multimedia effects.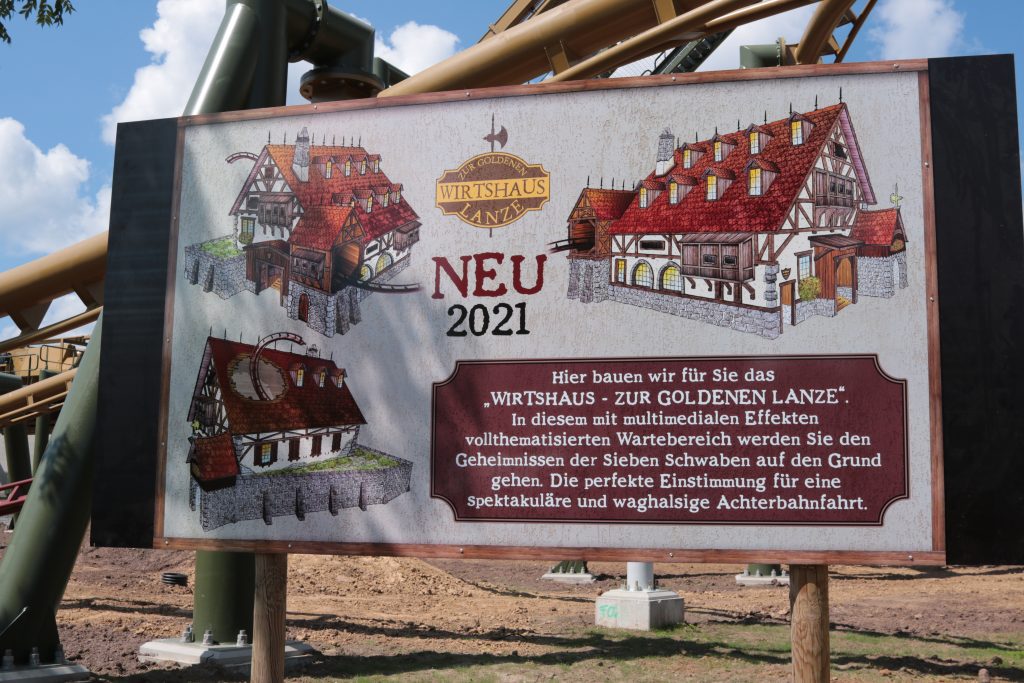 But now is the right time to experience the two coasters. "Hals-über-Kopf" offers a thrill-packed journey throughout the 2624ft long layout with multiple surprising elements. Additionally, the second coaster "Volldampf" doesn't need to hide itself behind his big brother. The family boomerang offers an exciting layout including a forward and a backward part of the track. Starting with an backward ascent on the lift, the train rushes forward near the station of "Hals-über-Kopf" before taking the same course backwards.
All in all, one can say that the park added two superior attractions and expanded their portfolio by a family friendly coaster and a thrill coaster. What this park has still to offer, we will present to you in the future!